Welcome, Transfer Students!
Whether you are preparing to transfer to the U or have already made the leap, we want to make sure your experience is as smooth as possible. Consider this your information hub for all things related to transfer students and the transfer process.
Do you have questions about the transfer process or want to learn about opportunities and resources for transfer students? Contact us at TransferStudentSuccess@utah.edu
This website is being updated during 2022.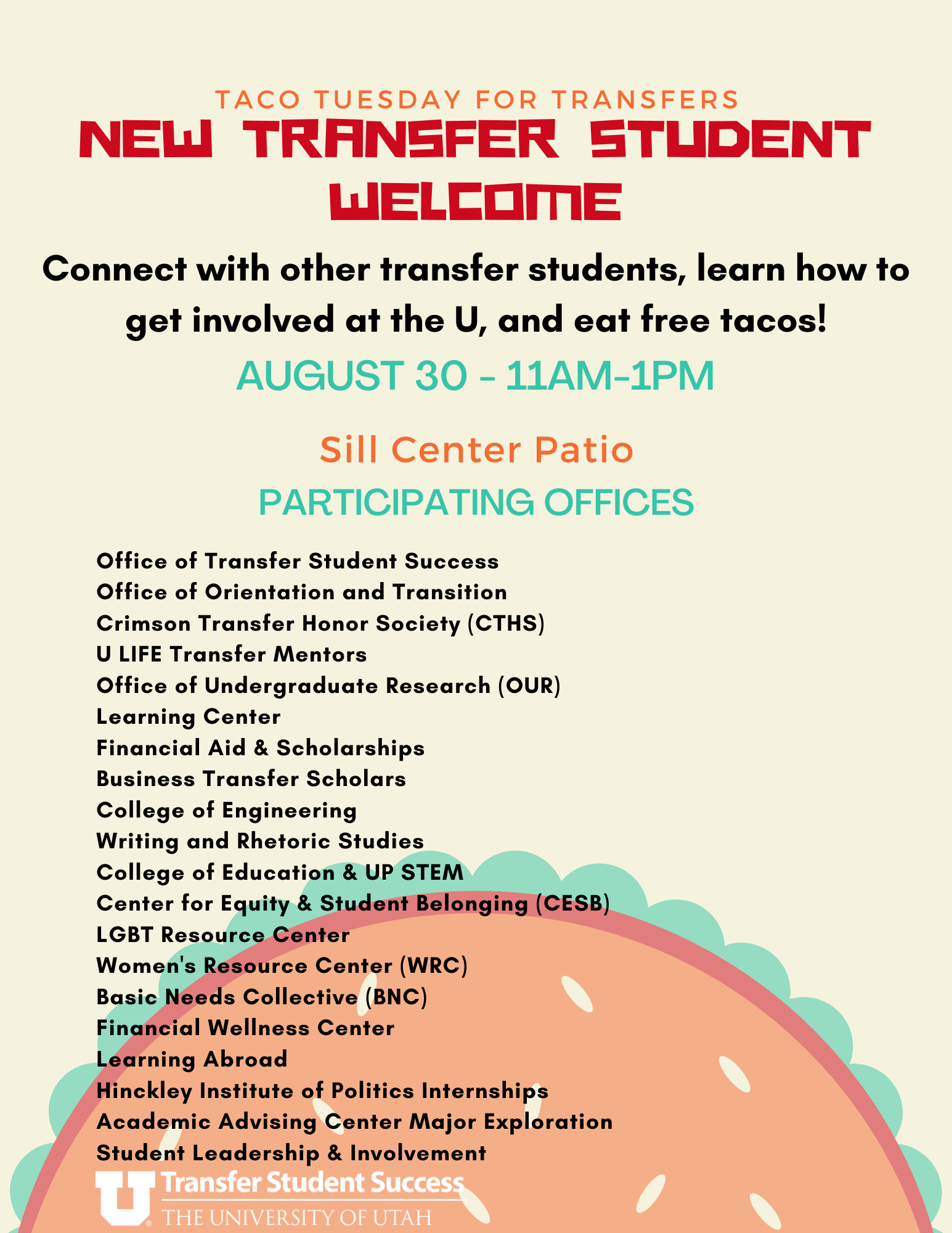 Upcoming transfer student events and deadlines
Monday, August 22, 2022 - Fall semester begins. View U of U Fall 2022 Academic Calendar Here
Thursday, August 25, 2022 - Getting involved in Community Service as a Transfer Student. 2pm Union, Suite 101 RSVP Here
Friday, August 26, 2022 - Last day to add a class without a permission code and last day to wait list for a class.
Monday, August 29, 2022 - Basic Needs Collective Transfer Workshop. 12:30pm Sill Center Large Conference Room RSVP Here
Tuesday, August 30, 2022 - New Transfer Student Welcome: Taco Tuesday for Transfers. 11am-1pm Sill Center Patio RSVP Here
Wednesday, August 31, 2022 - College of Engineeering Club Rush. 11am-2pm WEB Plaza. More info Here
Wednesday, August 31, 2022 - Transfer Workshop on how to Apply for Internships. 3:30pm Sill Center Large Conference Room RSVP Here
Friday, September 2, 2022 - Last day to add and drop classes
Wednesday, September 7, 2022 - How to Pay for School Financial Wellness Center Workshop. 2pm Gardner Commons 2900
Wednesday, September 21, 2022 - How to get started on Undergraduate Research as a Transfer Student (Panel). 3:15pm Sill Center Large Conference Room RSVP Here
Wednesday, September 28, 2022 - University Writing Center Resources Transfer Workshop. 11am Sill Center Large Conference Room RSVP Here
Monday, October 10, 2022 - Friday, October 14, 2022 - U of U Fall Break
Monday, October 17, 2022 - Financial Wellness Center Transfer Workshop. 2pm Sill Center Large Conference Room RSVP Here
Tuesday, October 18, 2022 - Major Exploration for Transfer Students. 3:30pm Sill Center Large Conference Room RSVP Here
Friday, October 21, 2022 - Last day to withdraw from classes